Lowering Absenteeism at a Large Hospital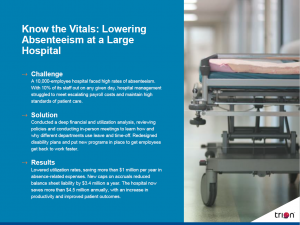 Absenteeism is a growing issue. Whether planned or unplanned, employee absences are costly and a major disruptor of business. On average, paid time-off comprises upwards of 20% of payroll and may account for 6.2% productivity loss. Also, multistate companies must ensure they are compliant and competitive in all of the regions and industries where they operate.
To Learn how Trion's Absence, Disability, and Life team helps clients maintain costs and drive productivity while staying compliant, contact us for more information.